When you were a child, you probably had dozens of career aspirations, from dancer to lawyer, football player to psychologist. But when it finally comes time to whittle down the dreams into one path, choosing the right career can be tough.
Wouldn't it be great if you could test-drive the jobs you're interested in? With an industry internship, you can. Industry internships are a way for students to get hands-on experience in professional fields while learning skills that will boost their résumés. At the same time, internships help employers run better businesses.
Rebecca Novak, as publicity and promotions manager for Live Nation, said she hired interns who are "motivated and have a passion to learn the entertainment business."
"Interns benefit the company overall by serving as an extra set of hands and eyes that maximize our department's efficiency and rate of return on projects," Novak said. "We often use their fresh knowledge to figure the best way to target youthful demographics and take advice on new technologies."
Interns can be the key to keeping a company running. On one hand, interns oversee the day-to-day functions that higher personnel at a company do not have time to, duties like answering phones, sending out mailings, and organizing the office. At the same time, interns learn the field, supplementing what they learn at school and preparing them to be the next generation of full-time employees.
Justine Barry was an intern in the buying department at Bloomingdale's. She went to showrooms for designer handbags, noted trends for the coming season, and checked out the layouts of the handbags in the stores.
"I was able to work with a buyer at Bloomingdale's with over 40 years of experience," Barry said. "It was great to be able to learn so much from someone who was so respected in the company."
One buyer complimented Barry for a small detail she attended to, and the experience really stuck with her. "She told me that the fact I took initiative means I will do well in this industry," Barry said. "Later on I was told that it is very hard to get a compliment from that specific buyer and I should be very proud of myself."
The buyer was right: Not only was Barry able to use her experiences in class discussions, but the internship led to a job. She was hired full-time at Bloomingdale's after her graduation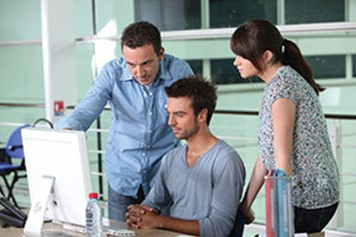 from Syracuse University.
Caitlin Eagen is also a Syracuse University graduate who, while in college, interned at a nursing facility shadowing a doctor. When she began applying to graduate schools to be a physician's assistant, she found that most of her acceptance interviews revolved around her experiences in the medical field. She was accepted into a prestigious medical program, and she said she owes a lot of it to her internship.
No matter what your dreams are, there is an internship for you. You can use the Internet as your searching resource, and don't be afraid to make phone calls asking for help. Your internship might be unpaid, but it will be worth it down the road.

Searching for internships
Finding a good internship in your area of study can be easy or more difficult, depending on your major, the industry, and the opportunities in your area. If you are free to travel for the internship, your choices are broader.
Start by talking with your instructors and using the resources at your school or college to find internships. The Internet is also a great place to search. For example, at Indeed.com, you can type in "Internship" and your city and see what's available throughout the year. State job websites also usually list student work opportunities. Here are a few other places to start your search for specific areas of interest.
• Non-profit
The American Cancer Society:
careers.peopleclick.com/careerscp/client_acs/external/search.do. Under "Select Position Type(s)" you can select paid or unpaid internship opportunities.
• Journalism - various
http://www.journalismjobs.com/job-listings/Internships
• Retail
Macy's: macyscollege.com/Internships
Bloomingdale's: www.bloomingdalescollege.com/Internships
• Computer technology
Careers.google.com